We are excited to announce the launch of our first remote control model, boasting one of the most sophisticated guidance systems on the electric trolley market.
The innovative S7 REMOTE - which features the same frame design as the award-winning S-Series range - comes with a dual pressure control system that allows golfers to alter how much the trolley turns to the left or the right, simply by varying the pressure applied to buttons on the handset. As well as the dual-pressure directional buttons, the user can also control the trolley's speed going forwards or backwards depending on how long they hold the respective buttons down on the remote control device.
To maintain stability in challenging terrain, the S7 incorporates a special mechanism that enables the two motors to help compensate for lateral slopes. It also features a rear anti-tip wheel, as well as a fully-rotating front wheel to allow the trolley to travel smoothly without requiring additional guidance. A 50 meter cut-out function stops the trolley from going out of range, while a hibernation setting brings it to a halt if the remote hasn't been touched for more than 45 seconds.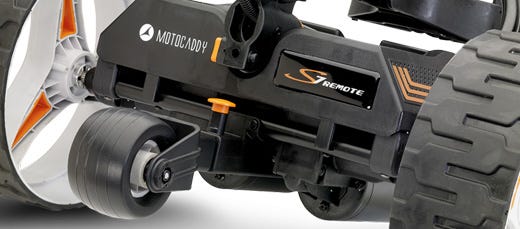 Clever electronics also allow the golfer to switch between the remote function and manual control mode by holding down the on/off button for one second.
In addition to its impressive remote control features, the S7 REMOTE also includes our patented USB charging port to charge GPS devices from the battery, plus a speed indicator and battery meter.
The S7 REMOTE has the added bonus of incorporating the two standout features from the 2014 range - QUIKFOLD and EASILOCK™. One of the easiest assembly mechanisms on the market, QUIKFOLD allows golfers to fold or unfold the trolley in as little as five seconds thanks to a simple sliding catch; while the EASILOCK™ bag-to-trolley connection system removes the need for a lower bag strap, thanks to two holes on the S7's bag support aligned with two removable locking pins on the base of any of our latest bag models.
The new S7 REMOTE trolley comes with a Motocaddy 20ah Lithium battery suitable for 18 holes on a dual-motored model and is available in Black and Alpine colour options.