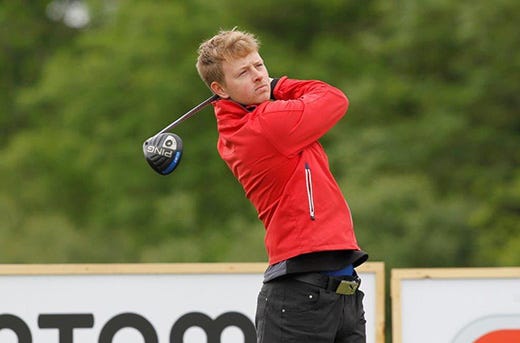 Jack Colegate and Kit Holmes share the 18-hole lead in the HotelPlanner.com PGA EuroPro Tour's Motocaddy Masters at The Carrick on Loch Lomond after shooting five-under-par opening rounds of 66.
The pair are trailed by one shot by Ben Hall (Cento Group) and Luke Johnson (Kings Lynn Golf Club) on a day which saw just 19 of the 165-man field card under-par rounds.
Holmes (Hunstanton Golf Club) was the first to set the five-under par pace after carding an unblemished 66 on the picturesque 7,082-yard course. He made birdies at the 2nd, 5th and 9th on the front nine and on both par-five holes on the back nine – the 11th and 15th.
Colegate (Deangate Ridge Golf Club) didn't have the best of starts, bogeying the par-four 10th. But he closed his first nine with a hat-trick of birdies from the 16th and made it five in a row when he broke par at the 1st and 2nd.
The Kent golfer then joined Holmes at the top of the leaderboard with a birdie at the 3rd, before seeing out his final five holes to par to sign for a 66.
With Hall and Johnson sharing third, three golfers are tied fifth on three under par, two back from the leading duo. Alex Wrigley (Hartlepool Golf Club), Luke Goddard (Hendon) and Ben Storey (Woburn Golf Club) are shot 68 on the par-71 course for their first round.
The Motocaddy Masters is the sixth event of the HotelPlanner.com PGA EuroPro Tour season and is played over 54 holes with a cut to the leading 50 players and ties made after the second round.
Spectator entry is free throughout the event and live scoring can be found at www.europrotour.com. A two-hour highlights package from the tournament will be broadcast on Sky Sports on Tuesday, July 26.